03.27.13
---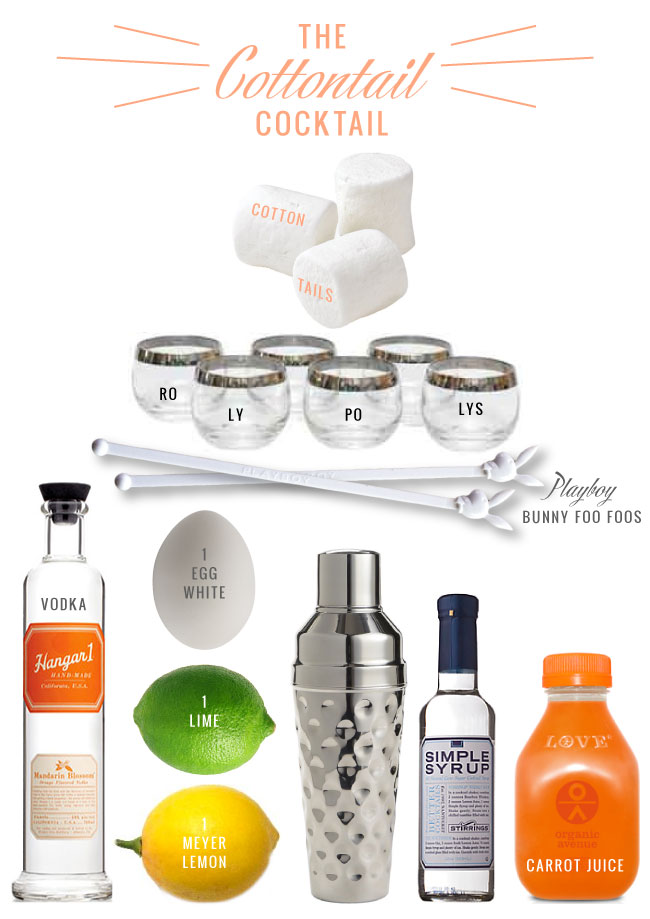 Everyone needs a proper Easter cocktail - let's face it, your not gonna wash down those hoards of jelly beans with liquefied kale - so I've removed the burden and thus I present: The Cottontail Cocktail!! Inspired by my fluffy confidante Howard Lilien - this punchy cocktail not only boasts a white fluffy cottontail, but it screams instant Easter tradition!
Here's a how he goes:
In a cocktail shaker 1/2 filled with ice add 2 ounces mandarin vodka, the juice of 1 lime, the juice of 1 lemon, 2 oz carrot juice, 1oz simple syrup + 1 egg white. Cap the shaker + do the 20 second bunny hop. Pour into chilled roly poly glasses + top with 1 jumbo marshmallow. For added sass garnish with a playboy swizzle.
Be sure to have plenty of supplies on hand so you can drink a lot - and while you're at it turn up some decent hip-hop!
XXX
MRS
Hanger One Vodka / Roly Poly Glasses / Shaker / Playboy Bunny Swizzles
Cocktails